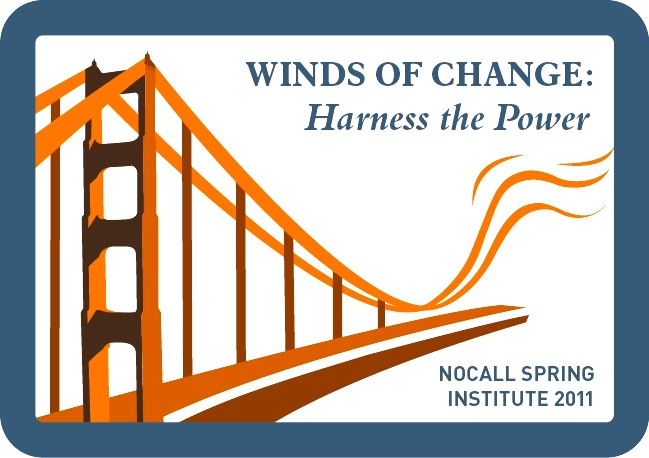 NOCALL Spring Institute
April 8-9, 2011
Sir Francis Drake:
www.sirfrancisdrake.com
450 Powell Street
San Francisco, CA 94102
Winds of Change: Where the Legal Industry is Going and How to Harness the Power of Opportunity
The legal industry is continuing to change at an alarmingly fast rate. Please join us as we discuss some of the most pressing issues affecting both the practice of law and the law library profession. The programs and speakers will provide the information and tools necessary to identify and seize opportunities, position ourselves as leaders and act as effective change agents within our organizations. There will also be ample time to visit with exhibitors and connect with your colleagues.
We look forward to seeing you there!
Registration
You can register online for the NOCALL Spring Institute here: http://nocall2011.eventbee.com
You can also register by downloading the registration form and mail it to the address provided.
Important Dates
Early Bird Registration – $115 registered/postmarked by March 8, 2011
Registration Deadline – $130 registered/postmarked by March 25, 2011
Late Fee – $150 registered/postmarked after March 25, 2011
Non-members – $150
Students, Retired and Unemployed Members – $50
Hotel
Rooms at the Sir Francis Drake are $149 per night for April 7 – 10, 2011. 
Reservations must be made by 5:00 pm March 8, 2011.
Reservations can be made at http://tinyurl.com/nocallSI2011 or by calling the Reservation Department at (800) 227-5480. (When making reservations by phone, please request the NOCALL Spring Institute 2011 rate.)
Exhibitors
To download an exhibitor packet please click here.
For more details or questions, please contact:
Lauri Flynn, NOCALL Spring Institute Committee, Vendor Coordinator
California Judicial Center Library
455 Golden Gate Avenue, Room 4617 San Francisco, CA 94102-7013
(415) 865-7523
Programs & Speakers
Farella Braun + Martel LLP, Certified Provider #1200 and sponsor of the 2011 NOCALL Spring Institute, certifies that this activity has been approved for MCLE credit by the State Bar of California.
Pre-Institute:
Friday, April 8, 2011
8:00 am – 9:00 am
Workshop Registration and Continental Breakfast
9:00 am – 11:45 am10:30 am – 11:30 am
Workshop – What You Need To Know To Break The Code: RDA – Not Just Jargon for the Back of House
Speakers: Joni Cassidy, Cassidy Cataloging Services; Ken Wells, Innovative Interfaces; Kathleen M. Winzer, Stanford Law School Library
Handouts 1, 2 and 3
NOCALL Discussion Roundtables 
Summary of Discussions: Free Legal Research Tools, Westlaw Next, and Making Oneself "Indispensable"

Institute:
12:00 pm – 1:15 pm
Registration and Exhibits Open
1:15 pm – 1:30 pm
Opening Remarks
1:30 pm – 3:00 pm
Program – The Changing State of the Legal Industry: Where We Are and Where We Are Going 
Speakers:  Holly Fujie, Buchalter Nemer; Sandee Magliozzi, Santa Clara Law; Terri Mottershead, Mottershead Consulting 
Handouts
* This program is made possible by a grant from the AALL/BNA Continuing Education Grants Program.
3:00 pm – 3:30 pm
Exhibit and Refreshment Break
3:30 pm – 4:30 pm
Program – The Changing State of the Legal Industry: Implications and Opportunities for Librarians
Speakers: Camille Reynolds, Nossaman LLP; Kathy Skinner, Morrison & Foerster LLP 
Handouts
4:30 pm – 5:30 pm
Program – Social Media: Legal Implications and "Real World" Legal Implementations
Speaker: Susan Freiwald, University of San Francisco School of Law

5:30 pm – 6:30 pm
Cocktail Reception with Exhibitors
*This reception is generously sponsored by Thomson Reuters.
7:00 pm – 10:00 pm
Networking Social (Off-site)
Our networking social will be taking place at The Thirsty Bear Brewing Company
located at 611 Howard Street in San Francisco!

Saturday, April 9, 2011
8:00 pm – 9:00 pm
Registration
Exhibits Open and Continental Breakfast
* Breakfast is generously sponsored by CEB.
9:00 am – 10:30 am
Program – Overcoming the Challenge of Change 
Speakers: Sandra Yancey, eWomen Network 
Handouts 1, 2, and 3 and Discussion
* This program is made possible by a grant from the AALL/BNA Continuing Education Grants Program.
10:30 am – 11:00 am
Exhibit & Refreshment Break
11:00 am – 12:00 pm
Program – Changing Laws By Ballot: The California Initiative and Referendum Process – the Good, the Bad and the Ugly 
Speakers: Mark Paul, Author; Susan Nevelow Mart, UC Hastings College of the Law
Handouts
12:00 pm – 12:45 pm
Program – The Challenge Facing Legal Information: The Journey from the Royal Typewriter to the iPad and What It Means 
Speaker: Bob Berring, UC Berkeley Boalt Hall
1:00 pm – 2:30 pm
Lunch featuring AALL Board Member, Lucy Curci-Gonzalez
* This program is made possible by the generous sponsorship of LexisNexis.

End of Lunch
Raffles/Prizes/Announcements
NOCALL would like to thank the following companies for their support of the NOCALL Spring Institute!
Sponsors
AALL
AALL/BNA Continuing Education Grants Program
BNA
CEB
Courthouse News Service
EMO EDGARizing Services
Farella, Braun + Martel LLP
Jones McClure
Legislative Research & Intent
LexisNexis
Taylor & Associates
Thomson Reuters
William S. Hein
Exhibitors
AALL
BE Press
BNA
Boalt Express
Cassidy Cataloging
CEB
Jones McClure
Legislative History & Intent
Legislative Research & Intent
NOLO Press
Questel
The Recorder
Research Solutions
Thomson Reuters
Westlaw Court Express
William S. Hein
Institute Committee
Chair: Holly Riccio, O'Melveny & Myers LLP
Shannon Burchard, University of San Francisco School of Law, Dorraine Zief Law Library
Lauri Flynn, California Judicial Center Library
Cathy Hardy, Hanson Bridgett LLP
Julie Horst, US Court of Appeals Library, Ninth Circuit (Networking Advisor)
Jane Metz, Bingham McCutchen LLP
Ellen Platt, Heafey Law Library, Santa Clara University
Nina Porcella, Sheppard, Mullin, Richter & Hampton LLP
Donna Purvis, LexisNexis
Sara Paul Raffel, Paul Hastings Janofsky & Walker LLP
Carolina Rose, Legislative Research & Intent LLC
Mary Staats, Farella, Braun + Martel LLC
Jessica Trenary, Morrison & Forester LLP
Ron Wheeler, Dorraine Zief Law Library, University of San Francisco
Jean Willis, Sacramento County Law Library