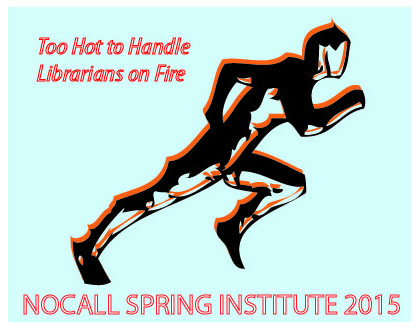 NOCALL's 2015 Spring Institute has a new date, venue, and program!
April 18, 2015, at Nile Hall, Preservation Park, Oakland
---
Venue | Registration | Vendor Information| Program | Speakers | Sponsors | Exhibitors
---
 Venue: Preservation Park
NOCALL's 2015 Spring Institute will be held on Saturday April 18th from 8 a.m. to 2 p.m. at Nile Hall (668 13th Street) in Preservation Park, 1233 Preservation Park Way in Oakland. Preservation Park is a short distance from Oakland's City Center. It is located near the 12th Street Oakland City Center BART station and major Freeways.
Complimentary parking is available at the City Center West garage, directly across Martin Luther King Jr. Way from Preservation Park. Entrances to the City Center West Garage are on MLK Jr. Way and on Jefferson Street. Be sure the check the attached parking information for details.
 Download the Spring Institute Brochure
---
Registration
The Member Registration Form for NOCALL's 2015 Spring Institute is available here.  Completed forms should be mailed to Rachael Smith, NOCALL Treasurer, Electronic Services Librarian, University of California at Davis Law Library, 400 Mack Hall Drive, Davis, CA 95626-5203. To avoid late fees, Member Registration Forms should be postmarked no later than March 13, 2015.
---
Vendor Information
Click here for Exhibitor information, including Exhibitor Registration Forms. Completed Exhibitor Registration Forms should be mailed or emailed to Jen Fell, Sacramento County Public  Law Library, 609 9th Street, Sacramento, CA 95814 (jfell@saclaw.org). Early-bird registration is available for Forms postmarked no later than February 27, 2015. To avoid late fees, Forms must be postmarked no later than March 27, 2015.
For Sponsorship Opportunities, please contact Jean Willis, Assistant Director for Support Services at the Sacramento County Public Law Library, (916) 874-8917, jwillis@saclaw.org.
---
 Schedule of Events*
7-8 AM: Vendor Exhibit Set-up
8-9 AM: Hot Breakfast Buffet, Registration & Vendor Exhibits Open
9-10 AM: Hanni Fakhoury, Digital Search & Seizure: Burning Issues After Riley v. California
10-11 AM: Samorn Selim, Careers On Fire: How to Find and Be a Sponsor
11-11:30 AM: Coffee & Vendor Break
11:30 AM-12:30 PM: Panel Presentation,
A Decade of Change: What Law Librarians Are Saying About Then and Now!
Moderator: Judy Janes
Speakers: Mark Estes, Lauri Flynn, Cathy Hardy, Mark Mackler, Chuck Marcus
12:30-1:30 PM: Lunch
1:30-2 PM: Remarks from AALL VIP Katherine Coolidge

_____________________
*Farella Braun + Martel LLP (Provider no. 1200) certifies that this activity has been approved for general MCLE credit by the State Bar of California.
---
NOCALL would like to thank the following companies
for their support of the 2015 NOCALL Spring Institute !
---
 SPONSORS
EXHIBITORS