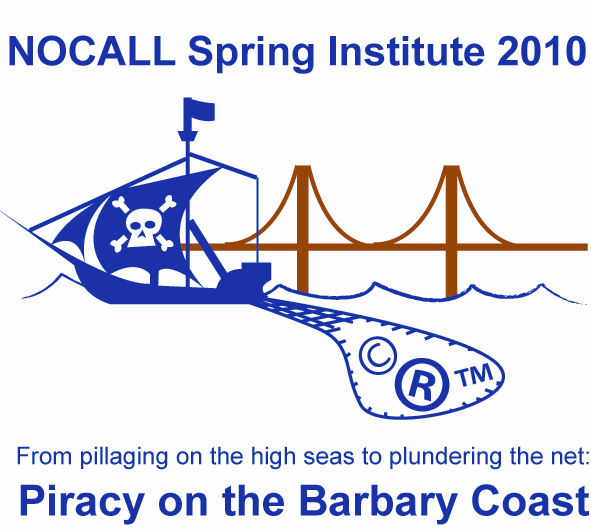 This year NOCALL turns 30 and to celebrate the Spring Institute Committee is pleased to present Piracy on the Barbary Coast: From Pillaging on the High Seas to Plundering on the Net. Today piracy includes not only abduction on the seas but abductions of all sorts, from copyright and trademark infringement to cybersquatting and identity theft. In addition to the substantive programming, we are hosting a Friday night cocktail celebration to mark NOCALL's Pearl Anniversary in Harry Denton's Starlight Room at the top of the hotel.
We look forward to seeing you there!
Registration
You can register online for the NOCALL Spring Institute here: http://nocall2010.eventbee.com
Or download the registration form and mail it to the address provided.
Important Dates
Early Bird Registration –$115 registered/postmarked by February 26, 2010
Registration Deadline – $130 registered/postmarked by March 15, 2010
Late Fee – $150 registered/postmarked after March 15, 2010
Non-members – $150; Students, Retired & Unemployed Members – $50
Hotel
Rooms at the Sir Francis Drake are $129 per night for March 24-29, 2010. Reservations must be made by 5:00pm February 26, 2010. Reservations can be made at http://tinyurl.com/nocallSI2010 Group Code: SIC
Vendors
Vendors can download a vendor packet here.
Download the Vendor insert here.
For more details or questions please contact:
Shannon Burchard
NOCALL Spring Institute Committee, Vendor coordinator
USF Zief Law Library
2130 Fulton St.
San Francisco, CA 94117-1080
415-422-2249 voice  415-422-2345 fax
Programs & Speakers
Farella Braun + Martel LLP, Certified Provider #1200 and sponsor of the 2010 NOCALL Spring Institute, certifies that this activity has been approved for MCLE credit by the State Bar of California.
Workshop:
Friday, March 26, 2010
8:00 am – 9:00 am
Workshop Registration & Continental Breakfast
9:00 am – 12:00 pm
Sunshine Week
Institute:
12:00 pm – 1:15 pm
Registration & Exhibits Open
1:15 pm – 1:30 pm
Opening Remarks
1:30 pm – 3:00 pm
Program – Google: Brigand on the Digital High Sea?
Speaker:  Andrew Bridges, Partner Winston & Strawn LLP,
Mary Minow, LibraryLaw.com
Gary Reback, Author of "Free the Market!: Why Only Government Can Keep the Marketplace Competitive"
3:00 pm – 3:30 pm
Exhibit & Refreshment Break
3:30 pm – 4:00 pm
Program – Modern Day Pirates and the Law
Speaker: John H. Cigavic III, Attorney, Law Offices of George W. Nowell
4:00 pm – 5:30 pm
Program – Privacy and Piracy: Perspectives on Trademark & Trade Secret Theft
Speaker: Katherine M. Basile, Novak Druce & Quigg LLP,
Matthew A. Scherb, Associate, Winston & Strawn LLP,
Aaron Myers, Senior Associate, Howrey LLP
Handouts: Basile- Trademark|Myers- Trade Secrets
6:30 pm – 8:30 pm
NOCALL 30th Anniversary Celebration
Don't miss NOCALL's 30th Anniversary Celebration… we're cebrating our "pearl" anniversary in style at Harry Denton's Starlight Room
Saturday, March 27
8:00 pm – 9:00 pm
Registration, exhibits open & continental breakfast
9:00 am – 10:30 am
Program – Privacy and Piracy: Perspectives on Identity Theft
Speakers: Ryan Calo, residential fellow at the Center for Internet & Society Stanford Law School,
Erika V. Wayne, Deputy Director of the Law Library and Lecturer in Law, Stanford Law School,
Mark Jackson, Deputy District Attorney – Identity Theft & High Tech. Crimes Unit Alameda County
Handouts: Calo- Privacy|Wayne- PACER|Jackson- Identity Theft
10:30 am – 11:00 am
Exhibit & Refreshment Break
11:00 am – 11:45 pm
Program – Sea Change – New Roles in the Law Firm of the Future
Speakers: Dr. Mark Sirkin, Consultant Hildebrandt Baker Robbins

11:45 am – 12:15 pm
Program – Pirating the law: advocating for change
Speakers:  Susan Nevelow Mart, Faculty Services Librarian, Hastings College of the Law,
Carl Malamud, founder of Public.Resource.Org
Handouts: Our Representatives PowerPoint| Advocating for Change in the 111th Congress
12:15 pm – 2:00 pm
Lunch featuring AALL Vice President, Joyce Janto
* This program is made possible by the generous sponsorship of Lexis.|
End of lunch
Raffles/prizes
NOCALL would like to thank the following companies for their support of the NOCALL Spring Institute!
Sponsors
BNA
CEB
Drexel iSchool
Farella, Braun + Martell LLP
Jones McClure
Legislative Research, Inc.
LexisNexis
The Recorder
Taylor & Associates
Thomson/West
William S. Hein & Company
Exhibitors
AgentLegal
Boalt Express
CEB
Legislative History & Intent
Morningstar, Inc.
NOLO Press
Questel
Research Solutions
Westlaw Business
William S. Hein & Company
Institute Committee
Chair: Shannon Burchard, University of San Francisco
Tara Crabtree, State of California Court of Appeal, 5th District
Elyse Eisner, Taylor & Associates
Lauri R. Flynn, NOCALL member
Leslie Ann Forrester, Pachulski Stang Ziehl & Jones
Lisa Hampton, Legislative Research Inc.
Cathy Hardy, Hanson Bridgett, LLP
Deborah Maglione, Howrey LLP
Susan Nevelow Mart, UC Hastings College of the Law
Ellen Platt, Heafey Law Library
Holly Riccio, O'Melveny & Myers LLP
Diane Rodriguez, Hassard Bonningtion LLP
Lori A. Ruth, Winston & Strawn LLP
Mary Staats, Farella Braun & Martel LLP
Tibisay Turner, Akin Gump Strauss Hauer and Feld LLP
Donna Williams, California Court of Appeal