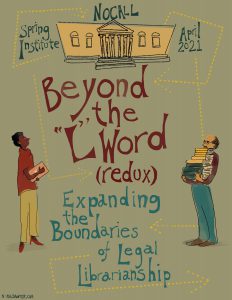 WELCOME TO NOCALL'S 2021 SPRING INSTITUTE, AKA THE 2020 INSTITUTE REDUX!
A HUGE thank you to NOCALL President Sarah Lin and the 2020 Spring Institute committee for all the work they put into organizing last year's event … and the subsequent (heartbreaking) effort it took to cancel it. This year's Spring Institute takes their programming as its basis and adds a few more learning sessions to explore three topics: finding your path in legal librarianship, creating partnerships and networking, and developing skills for the future.
The Institute is scheduled as a four-day event so you can choose the sessions that pique your interest and best fit into your work schedule. But be sure not to miss any of our Sponsor Brown Bag Lunch & Learn sessions or our Exhibitors demos during the dedicated Virtual Exhibit Day—you will not only get a chance to see the latest tech first-hand but could win gift cards for attending each of the sessions!
Additionally, we have scheduled some super-fun events for our Social Hours. If you like magic, cooking, or ghost stories, we've got you covered. Can't wait to see all of you there!
Registration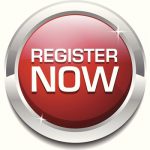 In addition to going virtual, the 2021 NOCALL Spring Institute is expanding in length and content! This year's Institute, "Beyond the "L" Word (redux): Expanding the Boundaries of Legal Librarianship," will be held April 21-22 & 28-29, 2021 via Zoom. Registration is now open. Click on this link to register for this free event.
A special thank you to our Sponsors & Exhibitors for their continued support! We hope you will visit them during our Virtual Exhibit Day (4/28)—Gift cards will be raffled during each vendor session.
Conference Schedule
Exhibitors
 

Keynote Speaker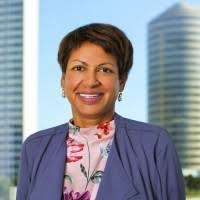 Kelly Lake is a veteran of the legal and professional information solutions space. She began her career at a start-up that had the goal of mapping the entire history of English common law that would eventually make it an acquisition target for Thomson Corp and then serve as the backbone for Westlaw UK, the second-largest legal research service in the world (behind its US counterpart, Westlaw). Kelly has held numerous leadership positions in content, product, and technology, living for extended periods in London, Beijing, and Delhi. Born in Trinidad, grown in Britain, and now a Bay Area transplant, she is truly a citizen of nowhere with a rich appreciation of the power of culture and identity to drive transformational change within organizations. She is currently the Chief Executive Officer and Executive Director of CEB, California's largest and oldest independent legal publisher.
---
Questions?  Email vicepresident@nocall.org